Electron Energy Corporation's history with ion thrusters began in 1998 with NASA's Deep Space 1 probe. Launched with the NSTAR ion engine on board, EEC magnets enhanced the performance of this new technology. The Deep Space 1 probe marked the first use of electric propulsion as the interplanetary propulsion system on a science mission.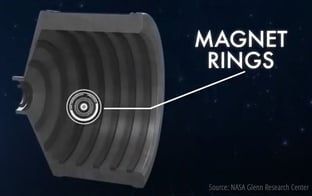 Once in the vacuum of space, ion thrusters can be used to propel and direct a spacecraft's movements. The thruster creates the propulsion by ionizing an inert gas like xenon. During this process, electrons are separated from atoms, creating positive ions. These positive ions are then used to propel the spacecraft in the desired direction, while at the same time releasing the unused electrons back into space without allowing them to potentially interact with the thruster electrically.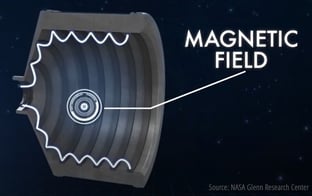 Magnets are used within the chamber of the ion thruster. The magnets repel negative electrons away from the walls of the chamber, encouraging collisions with a neutral atom from the inert gas being used (this is ionization).
These two pieces together create a positive ion, which accelerates through electrodes located at the end of the thruster, supplying the necessary propulsion needed.
EEC's experienced engineering team can help create a magnet solution for any ion thruster design. In addition to permanent magnets, EEC also produces electro-magnets for higher power requirements.